PROJECT PURPOSE AND BACKGROUND
– Tumbler Ridge's design guidelines were prepared in 2006
– The District is in the process of updating these guidelines to address changes that have occurred in the community since the original guidelines were prepared
PURPOSE OF THE DESIGN GUIDELINES
– To provide a tool that developers and District staff can use to incorporate specific approaches and techniques in their plans in order to achieve specified design objectives
– To provide a basis for uniform and consistent review of development proposals by District Council and Staff and to function as a tool for evaluating the appropriateness of any proposed development in the town centre
– To bring order, character, clarity, consistency and harmony to the town centre, and in particular, the network of public spaces consisting of streets, courtyards, plazas, sidewalks, parks and parking lots
SCOPE
The Design Guidelines apply to all areas within the boundary shown below.

VISION AND GUIDING PRINCIPLES
Vision:
Tumbler Ridge will have a vibrant, connected town centre that reflects the character of the community, welcomes residents and visitors, and provides active spaces for people to shop, work, stay and gather all year-round.
Guiding Principles:
1. Identity and Character
a. Reinforce the unique character of Tumbler Ridge through consistency and continuity of design elements, colour, and materials.
b. Integrate the Tumbler Ridge Global Geopark into the atmosphere of the town centre through paving, materials, signage and other methods.
c. Encourage a vibrant recreational and cultural atmosphere through art, entertainment, recreation and other cultural activities and programming. Such activity is beneficial to Tumbler Ridge as it promotes tourism, national prestige and recognition, improved quality of life and long-term residency.
2. Equity and Access
a. Design the town centre to be universally accessible for people of all ages, abilities, and backgrounds
b. Design the town centre to be safe and equitable by applying Crime Prevention Through Environmental Design, Age-Friendly Design, Gender-Sensitive Design, and other design best practices.
c. Design a pedestrian oriented downtown to promote greater human interactions and contribute to warm character, as well as reinforces the existing design strengths of the townsite. Encourage alternative modes of transportation to keep the downtown a place primarily for people while still accommodating vehicles.
3. Connection
a. Enhance physical, functional, and visual links between the downtown and surrounding neighborhoods.
b. Promote multi-modal transportation to and within the downtown with a focus on pedestrian and bicycle traffic.
c. Preserve, maintain and enhance the community's natural settings and promote physical and/or visual linkages to the natural environment.
d. Provide and program public spaces to encourage social interactions and gatherings.
e. Establish relationships with surrounding communities to promote inter-community communication and events.
4. Adaptability
a. Explore opportunities to create public/private partnerships for downtown enhancement, placemaking and revitalization projects.
b. Promote quality building and landscaping to ensure the longevity of downtown infrastructure.
c. Design for the Tumbler Ridge climate by embracing multi-season design strategies to allow the downtown to be used in all seasons.
d. Embrace climate adaptation strategies to help protect the community and surrounding natural environment for years to come.
PROPOSED FURNISHINGS & COLOUR PALETTE
The following are the proposed site furnishings that are recommended for use in the town centre: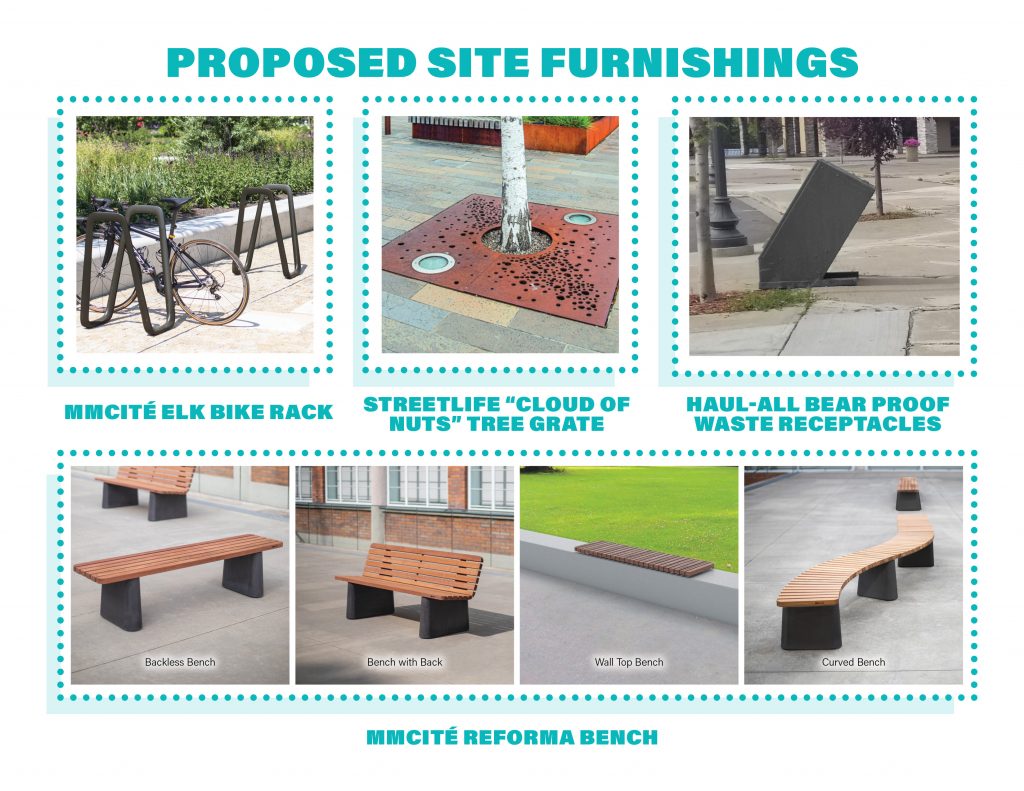 If you have any questions or comments please contact the District of Tumbler Ridge Economic Development Office:
Email: edo@dtr.ca
Call: (250) 242-4242
To view the complete draft document of the Design Guidelines click here.